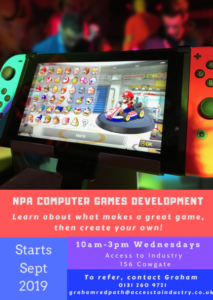 This exciting new course will allow students to learn about how computer games are made, and by the end of the course they will develop a game of their own.
The NPA Computer Games Development course will be delivered by an Edinburgh College lecturer, and will includes 3 units:
Games Design – Students will think about what kind of game they want to create, researching and testing other games along the way
Media Assets – Students will use audio software like Audacity and graphics software like Paint.net to create graphics, creating the assets for their game
Games Development – Learning some basic programming on Scratch, students will develop the knowledge to start making their own game.
Practicalities
Date/Time: Wednesdays from September, 10am-3pm, until June 2020
Location: Access to Industry, 156 Cowgate, Edinburgh, EH1 1RP
Finances: Course is part time and compatible with benefits. Financial support may be available in some circumstances
Support: Additional guidance and support will be available to all students, to help with any difficulties while on the course
Progression: On successful completion, students will be guaranteed interviews for a range of higher-level courses at Edinburgh College
Application criteria may apply. Please contact us if you're not sure.
Registration details
For an application form, further information or any questions, please contact Graham on 0131 260 9721 / grahamredpath@accesstoindustry.co.uk